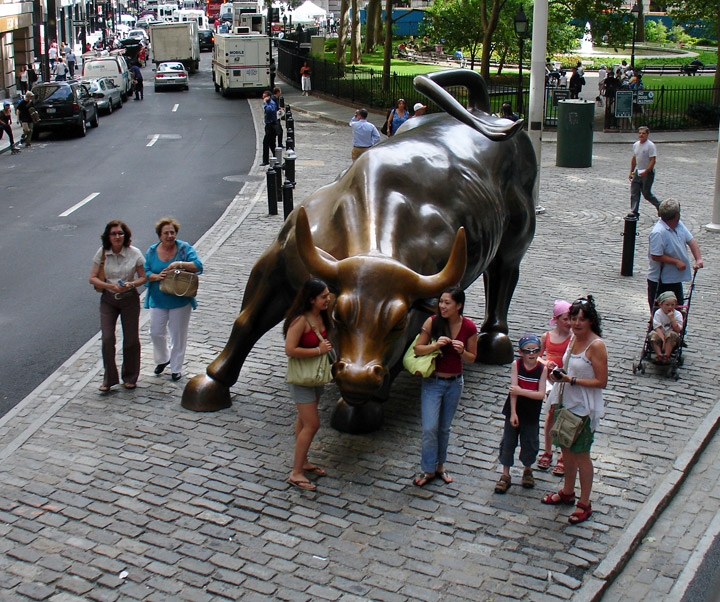 photo courtesy of http://galenf.com/us/newyorkcity059.jpg
Forget the Merrill Lynch bull---Obama is the true symbol
I'll gladly take on a Nobel Prize laureate. What does a Nobel Prize mean when it's given to a green president less than a year in office who has done nothing for peace ever since?
Contrary to how
Paul Krugman thinks success can be represented or described
I find the inescapable fact that Obama is continuing a Middle East war, enlarging it with a coalition of the willing, redux a la Bu$h, to be a more realistic description of the failure of his two terms. Dr. Cornell West knows this and so does author and journalist Bob Herbert in his new book, Losing Our Way." He's interviewed on the latest Bill Moyers program.
Would you count it a success to be blasted to pieces in an unneeded war, to come back--if alive--to an uncertain future and less than adequate health care and medical services? How about being able-bodied yet buggered to your death with taxes and low wages while obscenely rich corporate CEOs hide, and sometimes not so hidden, their riches in offshore black holes of financial magic? Forget the Merrill Lynch bull statue as a symbol of the power of corporations, Obama is the true symbol--a Trojan Horse stabled on Wall Street.
Are those who still hold out for Obama, claiming that white people who criticize Obama are racists, going to say the same about the opinions and research of two prominent Americans who are black?

I criticze Obama's actons not his genome!
Clip-- " think that most Americans don't understand the degree of suffering that individuals and their families are going through as a result of these wars that we just continue to fight wars without end, wars where, in many cases the majority of the population is not even paying attention to what's going on. And so the toll in individual lives has been staggering. The suffering for the tens of thousands of men and women who have had grotesque injuries, sometimes losing two limbs, three limbs, sometimes four limbs, terrible burns, brain injuries, and that sort of thing, none of that gets a lot of coverage.
"And then the staggering costs of these wars, which are borne by the taxpayers. I mean, one of the things that was insane was that, as we're at war in Iraq and Afghanistan, the Bush administration cut taxes. This has never been done in American history. The idea of cutting taxes while you're going to war is just crazy. I mean, it's madness."
And here's the link to Cornell West's interview on Democracy Now.
Who's the first to call Senator Warren a racist?
http://www.salon.com/2014/10/12/exclusive_elizabeth_warren_on_barack_obama_they_protected_wall_street_not_families_who_were_losing_their_homes_not_people_who_lost_their_jobs_and_it_happened_over_and_over_and_over/